What to Expect
At your first appointment your Physiotherapist will take a detailed history about your present condition, your past medical history, medication and some general information about your lifestyle, work and hobbies.
A physical examination will be carried out during which it may be necessary for you to remove some items of clothing depending on your condition. It would be helpful if you could bring a pair of shorts and a sleeveless top if you prefer.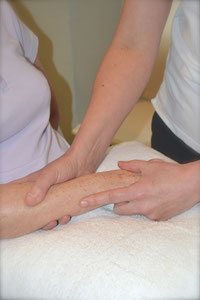 Following the examination the Physiotherapist will discuss their finding and a treatment plan will be agreed. If time allows treatment will commence at this initial visit.
Subsequent appointments are usually needed and a follow up appointment will be scheduled at the end of the session if necessary.
Your diagnosis and treatment programme will be documented and a record of your progress will be kept at each subsequent appointment. When required at the end of your treatment it is good practice to communicate a summary of this information with your GP so they can remain informed about the treatment you have received.