Home
Consultations during Covid-19 pandemic
Jayne Dennison Physiotherapy is offering Face to Face Consultations from Courtyard Clinic (Helen Daintree Podiatry) 2 Theatre Street, Ulverston, Cumbria, LA12 7AQ  or Virtual Consultations (Video or Telephone) from the comfort of your own home. Appointments can be arranged via telephone 07423378087 or the Contact page on this website. Please do not attend the clinic unless you have a pre-arranged booking. Jayne Dennison Physiotherapy Barrow-in-Furness Clinic remains closed in the short term. 
Jayne Dennison Physiotherapy is endeavouring to work within the legal, regulatory and professional framework that guide the safe management of patients, and the safety of the wider public and all that work in the practice environment.
A full risk assessment of the practise has been undertaken and systems and policies have been put in place following Public Health England Covid-19 Infection Prevention and Control Guidelines.
Face to Face Appointments:-
·  You will be asked to adhere to instructions when attending the practice to minimise risk to yourself, staff and other patients. 
·  Covid-19 screening and consent is completed prior to your appointment and you will be screened again before entering the building.
·  The practice will operate to maintain social distancing where possible. Strict hygiene procedures will be adhered to including hand sanitising, cleaning between patients, and the use of PPE. 
·  Only pre-booked appointments to attend the practice. 
Thank you for your understanding at this difficult time!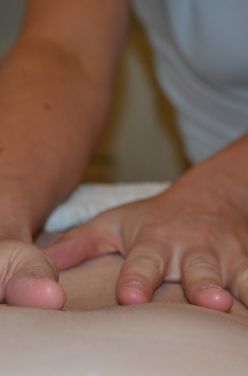 Jayne Dennison Physiotherapy and Sports Injuries Clinic is a small practice based in the market town of Ulverston on the South Lakeland Peninsula. Treating people all ages, the practice offers expert examination and effective Physiotherapy treatment for a wide range of conditions.
The clinic provides a service designed to meet the needs of each individual. The clinic is set up to manage pain, to facilitate recovery after illness or injury, to restore movement and support the return to normal function. The clinic is experienced in supporting a wide range of patients including elite athletes, people recovering from surgery, those suffering the after effects of whiplash through to those managing the symptoms of arthritis. Each treatment programme is designed to manage the problem and reduce the risk of recurrence.
Jayne is registered with and operates within the code of conduct set by the national Regulator for Chartered Physiotherapy, the Health and Care Professions Council (HCPC). She is a member of the Chartered Society of Physiotherapy. These codes are designed to protect the public and require members to demonstrate high standards of professional practice through regular update and training. Membership also provides indemnity insurance.
Chartered Physiotherapists undergo detailed training in anatomy, physiology and pathology, providing them with extensive knowledge and understanding of the healthy body as well as the impact of illness and injury. Chartered Physiotherapists are skilled in making a diagnosis and devising a plan to treat and manage your condition. 
The practice has comprehensive links with local medical practitioners; this is particularly valuable when referral for further investigations or specialist opinion is required.
Privacy Notice
Introduction
This is a notice to inform you of our policy about all information that we record about you. It sets out the conditions under which we may process any information that we collect from you, or that you provide to us. It covers information that could identify you ("personal information") and information that could not. In the context of the law and this notice, "process" means collect, store, transfer, use or otherwise act on information.
We regret that if there are one or more points below with which you are not happy, your only recourse is to leave our website immediately. We take seriously the protection of your privacy and confidentiality. We understand that all visitors to our website are entitled to know that their personal data will not be used for any purpose unintended by them and will not accidentally fall into the hands of a third party.
We undertake to preserve the confidentiality of all information you provide to us, and hope that you reciprocate. Our policy complies with UK law accordingly implemented, including that required by the EU General Data Protection Regulation (GDPR).
Except as set out below, we do not share, or sell, or disclose to a third party, any information collected through our website.The law requires us to tell you about your rights and our obligations to you in regards to the processing and control of your personal data.
Your Legal Rights
Under certain circumstances, you have rights under data protection laws in relation to your personal data. These include the right to:
Request access, correction and removal to your personal data.
Object to processing of your personal data.
Request restriction of processing your personal data.
Request transfer of your personal data.
Right to withdraw consent.
You can see more about these rights at:
https://ico.org.uk/for-organisations/guide-to-the-general-data-protection-regulation-gdpr/individual-rights/
If you wish to exercise any of the rights set out above, please email us at jdphysio2@gmail.com

If you request access to your personal data, there will not be a fee unless the request is excessive. We try to respond to all legitimate requests within one month.
Links to Third Party Websites
When you are using the website, you may move to other websites which are not operated by us ("Third Party Websites"). Third Party Websites may send their own cookies to you and collect or request data and personal information. We do not control Third Party Websites and therefore are not responsible for them. By having a link to Third Party Websites from the Website we do not make any promise or recommendation about the Third-Party Websites and we may not have any connection with the people who operate the Third-Party Websites. You should always read the privacy policy of Third Party Websites as their policy may be materially different to that of Jayne Dennison Physiotherapy LTD
Disclosing Information
We will not sell, distribute or lease your personal information to third parties unless we are required by law.
Messages sent via the contact page on the website
Messages sent to us via the website are sent to a computer that is password protected and will be deleted when the enquiry has been dealt with.
Use of information by website host
Our website host is Jimdo. Please click on the following link for details of how Jimdo process data including IP addresses and their use of Cookies.  Privacy Policy
Complaints
If you wish to raise a complaint on how we have handles your personal data you can contact us by phone, email or in writing to have the matter investigated If you are not satisfied by our response, or if you believe we are not processing your data in accordance with the law you can complain to the Information Commissioners Office: https://ico.org.uk/